Ms Christine Cassar Naudi, who heads the yachting tax practice at GANADO Advocates, was one of the speakers at the Superyacht Investor conference organised at the Hyatt Regency Hotel – The Churchill in London on 14-15 March, 2016. She also participated in a panel discussion which analysed recent legislative developments and practices within the European Union and the implications thereof in connection with the chartering, leasing, and importation of superyachts.
More than 120 delegates from 17 different countries attended this 2-day international conference which brought together lawyers, tax advisors, financiers, brokers, shipyards, ship registries and yacht owners to discuss highly topical subjects for the superyacht industry. The state of the market was discussed from the shipyards' and the brokers' perspectives during the first day of the conference whilst other topics included an analysis of taxes which are relevant for yachts, and strategies to mitigate transaction risk and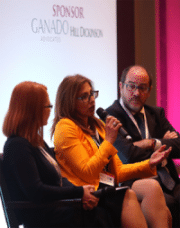 construction financing risk. On the second day, the delegates focused on security issues and other perils at sea, insurance aspects, yacht financing, and the future of the superyacht industry.
GANADO Advocates was one of the main sponsors of the 2016 edition of Superyacht Investor. As a key player within the Maltese shipping sector, GANADO Advocates provides tax and legal advice to many yacht owners, ship owners, banks and other financial institutions across the globe. The firm has been strongly involved in the drafting of much of the relevant shipping legislation over the years, and has a team of professionals who are able to provide tax-efficient solutions for the benefit of its yachting and shipping clients.