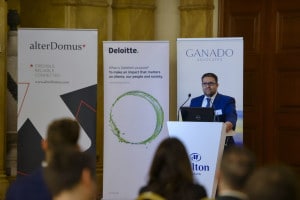 GANADO Advocates, together with Deloitte and Alter Domus, organised the Malta Asset Management Forum 2017, which took place at the Hilton Hotel on 2 November. Now in its 3rd year running, the forum has become an annual gathering for the asset management community that seeks to address recent happenings within the financial services sector.
Dr Andre Zerafa, Partner within the Investment Services and Funds practice at GANADO Advocates, opened the event, which covered topics such as MIFID II, GDPR, securitisation, governance and fintech. Mr James Farrugia, Partner within the same practice, led the discussion on the MIFID II implications for MIFID firms, AIFMS and UCITS Management companies. This was followed by a presentation on securitisation and structuring alternative investment opportunities, which was delivered by Dr Nicholas Curmi, Senior Associate within the firm's Capital Markets practice.
Dr Catherine Formosa, Senior Associate within the Banking and Finance practice, was a panel member on the discussion about governance, risk and compliance challenges, while Dr Leonard Bonello, Senior Associate within the same team, acted as a panellist in a discussion which addressed the question of whether fintech will reshape the financial services sector.