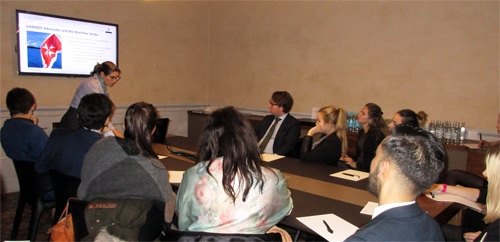 On Tuesday 2nd February, a group of Dutch law students, forming part of ELSA Netherlands, visited GANADO Advocates' offices in Valletta for a lecture about the key legal aspects of the maritime industry in Malta. The visit, organised by ELSA Malta in collaboration with GANADO Advocates, provided an opportunity for these students to expand their knowledge of maritime law.
Dr Caroline Risiott, an associate within the firm's shipping practice, delivered the lecture. Dr Risiott discussed the firm's experience within the maritime sector as well as Malta's role as a maritime hub. She explained the advantages to ship owners when choosing the Malta flag and the reputation that such a flag holds on an international level.
Dr Risiott briefly explained the legislative framework and the process of registering a vessel in Malta. She also delved into the financing elements, introducing the concepts of mortgage registration and bareboat charter registration.
Dr Risiott concluded her presentation with a brief question and answer session, which allowed a number of students to raise points of interest and further discussion.